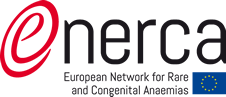 The ENERCA Telemedicine platform facilitates remote diagnosis orientation of complex cases by building a bridge among health professionals in distant locations and experts in rare anaemias leading to a faster and more accurate diagnosis and consequently, to a better care of the patient.
The platform, led by Hôpital Erasme - Université Libre de Bruxelles and coordinated by Prof. Béatrice Gulbis, Dr. Françoise Neumann, Dr. Maria del Mar Mañú Pereira and Prof. Joan-Lluis Vives Corrons , aims to:
Facilitate the access to diagnosis advice given by experts in rare anaemias in order to decrease the time needed for its achievement, resolve complex cases and reduce the number of patients remaining undiagnosed.
Promote interprofessional consultation and sharing of knowledge through the exchange of clinical information resulting in the improvement of patient care.
Foster research and education by providing the medical community with a tool that allows concentrate cases, pooling data, and establish algorithms for efficient diagnosis.
Reduce the cost of and increase efficiency through shared health professional staffing or technology, and reduced travel times.
The e-ENERCA Telemedicine platform is dedicated to health professionals for sharing complex cases facilitating their diagnosis, however, since it is open to public in its first stage, patients can also use it under their own responsibility.
More information: ENERCA Telemedicine platform, e-ENERCA project